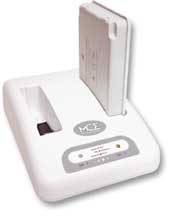 The MCE Battery Charger for the Apple 12" iBook G4 and 12" iBook G3 provides a convenient means to simultaneously charge two Apple iBook Li-Ion batteries quickly and easily. About two and a half hours is all it takes to have two fully charged batteries ready for use at any time.
Helpful indicators provide instant user feedback on the completion of the charge process as well as on the detection of a battery error. Built-in smart circuitry ensures that each battery is completely and safely recharged every time, providing users with the maximum usage time between recharging and also establishing reliable long-term battery life.
Since the MCE Battery Charger for the 12" iBook G4 and 12" iBook G3 has a lightweight and compact design, it's easy to take along in a carrying case to provide quick battery charging wherever you go.
The sleek design of the MCE Battery Charger superbly matches the attractive styling of the 12" iBook G4 and G3, making it a perfect companion for the computer you've come to value immensely.
Package Contents

• Battery charger
• Universal AC adapter (100-240V)
• User's Guide

Part Number: CH2IB

PDF Product Spec Sheet
(File size: 74K. Requires Adobe Acrobat.)
---