The new MCE Auto/Air Combo Adapter for PowerBook G4 and iBook is the perfect travel companion for long working road trips, allowing you to connect your laptop to a regular "cigarette lighter" auto power outlet as well as to any industry standard EmPower airplane outlet.
Let the Road (and Sky) Be Your Office
Take your PowerBook G4 or iBook on that road trip or airline flight to put the finishing touches on your work without wondering if you'll have enough battery power to complete the task. The MCE Auto/Air Combo Adapter accepts any voltage provided by a standard auto or airline power outlet — from 11 to 15 volts — and steps it up to precisely what your Apple laptop needs: 24 volts at up to 3 amps for a maximum of 72 watts of power. So it not only connects you to the power you need to run your laptop, but also to the power you need to simultaneously charge its battery so you can continue to work afterward.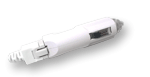 It's Quite Adaptable
The MCE Auto/Air Combo adapter is really two adapters in one. Just slide off the fuse-protected auto connector from the end of the adapter and discover the EmPower airline connector underneath, ready to be of service. In either case, a built-in LED lights up to show when you have a live power source.
The Perfect Travel Companion
The last thing you want is for any of your computer gear to overload you when you're traveling! Weighing in at a virtually unnoticeable 5 ounces and measuring just 0.8 x 1.7 x 3.7 inches, you'll need to check twice to make sure it's in your laptop carrying case!
Specifications
Input: 11V - 15V DC
Output: 24V DC, 3A Max (72W)
Transformer Dimensions: 0.8" x 1.7" x 3.7" (20 x 43 x 94mm)
Length: 4.5 ft (1.37m)
Weight: 5 oz
Warranty: 1 year
Part No.: TRAV/G4-IB2001
Airlines Providing Laptop Power Ports
The MCE Auto/Air Combo Adapter plugs into the standard cigarette lighter socket found on pretty much every automobile ever made. As for the airlines, we've comprised an ongoing list, shown below, of airlines and their aircraft that provide power ports. If you have new information regarding power port availability aboard specific airlines or aircraft let us know by e-mail and we'll update our list!
Airline
Aircraft
Class
Aer Lingus
A330-200, A330-300
Business
Aeroflot
767-300
First
AeroMexico
757-200, 767-200, 767-300
All Classes
Air 2000
767-300
Business
Air Canada
A330, A340-500, Select A340, 767-300ER
First
Select A319, A320, A321
Business
Select seats on Select A319, A320, A321
Economy
Air China
747-400
Business
Air Europa
767-300
First
767-300ER, 777-200ER
Business
Air Europe
767-300ER
Business
Air France
A330-200
First
Business
Air Madagascar
767-300ER
First
Business
Air New Zealand
A320
Business
747, 777
Prem Economy
AirTours International
767
First
Business
Alitalia
747-200ER, 747-400
First
Business
Aloha
737-700
First
American
727-200, 737-800, 757-200, 757-200, 767-200, 767-200ER, 767-300, 777-200, A300, A300ER, F-100, MD-11, MD-80
All Classes
DC-10
First
Business
Australian Airlines
A340, A330
Business
Aviacsa
No Info Yet
Aviateca
737-200
Business
British Airways
747-400, 777-200ER, Some 767
First
Business
Cathay Pacific
Entire Fleet
All Classes
Continental
767-200, 767-400, 777-200
First
Business
767-400 (H) (Rows 10-15), 767 (Rows 16-23), 777 (Rows 17-23)
Economy
Delta
737-800, 757-200, 757-200 SA, 767-300, 767-400, 767ER, 777-232
All Classes
MD-11
First
Business
El Al
777-200, 747-400
First
Business
Mexicana
No Info Yet
United Airlines
767-300, 747-400, 777, Select 757 and A320
First
Business
All Transcontinental Aircraft
All Classes
US Airways
A319, A320, A321, A330
All Classes
Virgin
747-200, 747-400, A340-300
First Class